What are superfoods and why are they so super? 
Superfoods have been around for centuries, but have become hugely popular within the last five years. Picture this: you're at the grocery store and you come across a product that reads "superfood" or "superfruit" or "supergrain," but what does any of that mean? Superfoods are foods that highly nutritious and have very few calories. There is a wide range of superfoods, from berries, to vegetables, to grains and they all have many health benefits. It is important to not only introduce superfoods into your diet, but also into your skin care routine. Superfoods have been linked to the improvement of skin, including reducing redness and dryness and improving overall skin condition.
Top 5 Superfoods 
There are several different types of superfoods and it's important to understand the benefits of all in order to create a healthy lifestyle for both body and skin.
Avocado
(via The Daily Meal)
I mean who doesn't love avocados in any form? Avocados have been trendy for a while now and for good reason. Not only are they delicious and aesthetically pleasing, but they also super good for you! Avocados provide a great source of vitamins, fiber, and other heart-healthy nutrients. Next time you're at a brunch, definitely go for the avocado toast! Avocados also have great skin and hair strengths to keep your skin looking fresh and your hair feeling strong!
Seeds
(via LC Living)
There are a ton of different seeds that are considered superfoods. From chia to flax to hemp to sunflower, seeds are a great source of fiber, protein, vitamins, and minerals! Next time, add some seeds into your smoothie, on top of your avocado toast or sprinkle some on your smoothie bowl! You can also add superfood seeds into your skincare routine. Ground up flax and chia seeds are also make a great exfoliant and some other seed oils can provide your skin with some major hydration.
Cacao Nibs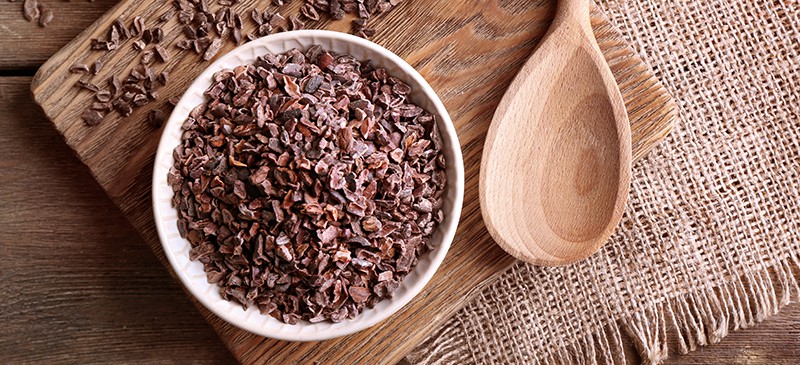 (via Dr. Axe)
Lucky for you chocolate is basically a superfood! Cacao is the original, natural source of chocolate and is considered a superfood. Cacao nibs are known to maintain muscle and nerve functions, help you lose weight, and prevent anemia, among other great benefits. Cacao nibs contain more antioxidants than tea and berries, helping to reduce the risk of coronary disease and stroke. They can even enhance your mood! So next time you're feeling down, make a smoothie bowl and sprinkle in some cacao nibs for a boost. This superfood is also a super-skincare essential! Since cacao is loaded with antioxidants, the little bean helps protect and repair skin from damage and premature aging. Who ever said chocolate was bad for you?
Nuts 
(via The Healthy Family & Home)
We're nuts for nuts! Similar to most superfoods, nuts are nutrient-dense, protein rich, and full of vitamins and minerals. Each nut has its own special health benefit. Walnuts are great for heart health, almonds stabilize blood sugar, and cashews boost brain function! Nuts are a great mid-morning snack or afternoon pick-me-up. They're also delicious in salads, cereals, smoothies, and more! When it comes to skincare it is important to be cautious with nuts, as some are used as exfoliants, which can create micro-cuts in the skin. However, nut-oil is a great way to provide your skin with the same great benefits as your body. Almond oil is full of vitamins and minerals that help protect your skin from the environment, as well as antioxidants that keep your skin looking young and fresh. Go nuts!
Acai Berries
(via Mayo Clinic)
Acai berries are one of the most popular superfoods due to their wide array of benefits. Like many other superfoods, they are loaded with nutrients and antioxidants, but even more so! They have also been linked to improving cholesterol and boosting brain function. They've even been known to have a possible anti-cancer effect! Acai berries can add a delicious burst to any meal, such as yogurt, smoothies, toast, and more! You should also consider adding acai to your skincare routine. Since the little berry is rich in antioxidants, it can combat signs of aging, as well as protect your skin from the environment. We've got your skin covered with a whole range of refreshing Acai Berry bath essentials!
The Trend: Acai Smoothie Bowls 
Want to have a popping Instagram to with your new diet and skincare regime? Acai smoothie bowls are the perfect thing for you! Acai bowls started making their way around Brazil as the perfect summertime treat from the 1970s to the 1990s. These delicious bowls eventually made their way to the U.S. in the 2000s and rose to major popularity. These days acai bowls are jam-packed with all of your favorite superfoods, such as berries, nuts, seeds, and more! Not only are acai smoothie bowls a super delicious "supermeal," they are also super Instagrammable and can add a burst of color to your feed.
Benefits of Superfoods
Superfoods, like acai berries, are known to:
Be nutrient-dense
Be antioxidant-rich
Prevent disease
Protect skin
Boost health